"Our God given unalienable rights are given to us all as individuals. They tell us what we may do for ourselves, and they are the embodiment of liberty. The so-called rights that government gives to some of us are parcelled out to select groups as classes. They tell us what one class of people may require another to do for them, and they are the very essence of slavery."
— Perri Nelson, February 9, 2010
A bheil Gàidhlig agaibh?
---
Published Thu, Mar 14 2013 8:50 PM
---
As I indicated yesterday, I've recently had a couple of discussions with people that don't really seem to understand today's topic. I even had one today regarding of all things immigration. In that conversation an individual made this statement.
…the only principle one needs is 'open immigration' as a consequence of absolute individual rights.
This attitude represents a gross misunderstanding of individual rights and their relationship to an ordered society. Our rights are not "absolute" by any stretch of the imagination. They are given to us by God and they are a part of our very being, but there are limitations upon them. For the irreligious, agnostics, or atheists out there that don't accept the notion that they are given to us by God (I do feel sorry for you) the fact remains that they are fundamental, unalienable rights that arise as a consequence of our existence.
They are not granted by government. They are not granted by other men. They are a part of us. In that sense they may seem absolute, but we must consider the existence of other men.
Assume for the moment the existence of no society. Men are in their "natural" state, or as John Locke called it "the state of nature". Here all men have perfect liberty and freedom to do what they will with themselves and their possessions. Property is defined by taking something from the commons. No man needs to ask permission of another. We are completely free within the bounds of the law of nature.
This is true for ALL men in the state of nature. No man depends upon another for his liberty. No man requires the permission of another to feed, clothe or shelter himself. All are equal, and all are equally sovereign. There are no constraints upon our liberty except those imposed by the law of nature.
In the state of nature, our individual natural rights appear absolute. In the state of nature there are no borders. In the state of nature we are beholden to none and the only law that constrains us is the law of nature. Yet it is by this law of nature and the equal sovereignty of all men that we learn that our inherent natural rights do have natural boundaries.
Do I have the right to life? Then by extension so does my neighbor. Prudence and wisdom dictates that if I wish my neighbor to respect my right to life then I must respect his as well. The very law of nature teaches the wise man to learn the golden rule. Do I have the right to take from the commons a piece of fruit for my nourishment? To claim it as my property? To eat it? So too does my neighbor. If I take it and spoil it I have done my neighbor an injustice and violated natures law.
May I take a bit of sheltered land from the commons and claim it as my resting place for the evening? If I then make improvements to it, enhancing the shelter and comfort it provides do not my actions make it mine? Can not the same be said for my compatriots?
This is the state of nature. Natural law prohibits greed, for we can only take that which we can hold and use. Natural law requires that we respect one another's rights lest our own be infringed. Natural law shows us that our rights cannot infringe upon those of another for we would not abide another's infringement upon our own.
In the state of nature, there are some rather obvious fundamental, unalienable rights that each of us has by our very being. Each man has the right to life, to liberty, to property, and to pursue their own happiness however they see fit. Beyond this, it is clear that all men have these rights equally, and that all are equally sovereign, empowered to punish violations of the law of nature as they see fit and in proportion to the severity of those violations.
Why then would a man abandon the state of nature to enter into a society or to submit himself to a government? Quite simply for more security, safety and comfort. For while absolute liberty may seem a wonderful thing, mankind, in the state of nature, lives a precarious existence. Foraging for food, without agriculture (a product of society), is time consuming and by no means certain. Without some form of weapons technology (either a personal invention or a product of society), hunting for game is also by no means certain. Living the life of a hunter/gatherer is fraught with peril and filled with labor. For survival's sake men must band together and cooperate.
Human nature rears its ugly head as well. It should come as no surprise to anyone that men will seek pleasure and be self indulgent. No one should be surprised to find that men avoid work wherever they can. It should come as no surprise that some men are physically stronger than others, that some men are inconsiderate of others, that some men are simply bullies. And no one should be shocked to find that in such circumstances as man might find himself in in the state of nature absent our better nature and the constraints of a society that some men will take advantage of their greater strength to infringe upon the rights of others – taking from them the food they have gathered, casting them out of the shelter that they have provided for themselves and so forth. For though in the state of nature all are equally sovereign and all are blessed with equal rights, not all men are willing to honor the rights of others, recognizing no right but greater strength of sinew and bone.
These reasons compel thoughtful men to band together for their common good. While one may be stronger than any other, or even any two together, surely an overwhelming number of others can punish his violation of the laws of nature or his infringement upon their natural rights. While alone a single man may starve or perish from exposure to the elements, a group of men caring for one another will have a better chance of survival and even comfort.
It is for these reasons that men form societies. It is for these reasons that they will agree together upon a means of governing themselves, yielding their personal sovereignty to that of the society. Societies are formed for the mutual benefit of mankind as well as to secure the individuals natural rights from the infringement of those outside those societies. Entering into a society means leaving the state of nature, exchanging it for mutual security, survival, and happiness in the face of a harsh world and the tyranny of those who will not recognize the rights to life, liberty, property, or the pursuit of happiness.
The society has no more power over its members than they grant it themselves. For just as a man may freely give up the state of nature to enter into a society with other men, he may freely choose to return to the state of nature forsaking the society of others. In doing so he abandons the protection of that society and returns to the insecurity and peril of a life apart from it. Those who remain in the society though should look upon him with suspicion, as they look upon all who are not a part of their society, for he has chosen to no longer abide by the social compact that binds the society together.
Once a society is formed, certain synergies come into play. Men in a society will recognize that some are more skilled at finding and improving shelters while others have more skill at hunting or acquiring foods. Soon the society will take advantage of the various strengths of its members providing a way to accumulate and set aside more for leaner times, to gain greater comfort and the like.
Again, the nature of man comes into play, for some who are not members of the society might see the society's gain and covet it for themselves. Unwilling to enter into the society they may seek other means to acquire what the society has accumulated. That accumulation is the property of the members of the society, according to whatever rules they have established for the society. Quite naturally the members of the society are entitled via their individual right to property to defend it. And so a society finds the need for common defense, agreed upon borders and more. It takes, from the authority granted to it by its members sovereign authority over its territory and all within it.
As the founders said in the Declaration of Independence:
We hold these truths to be self-evident, that all men are created equal, that they are endowed by their Creator with certain unalienable Rights, that among these are Life, Liberty and the pursuit of Happiness.--That to secure these rights, Governments are instituted among Men, deriving their just powers from the consent of the governed, --That whenever any Form of Government becomes destructive of these ends, it is the Right of the People to alter or to abolish it, and to institute new Government, laying its foundation on such principles and organizing its powers in such form, as to them shall seem most likely to effect their Safety and Happiness
This is why men leave the state of nature – to protect their unalienable rights. This is why the founders fought against Britain, for Britain and her King had become destructive of their rights. This is why the United States was established. It is the consent of the governed that grants the United States the authority over its citizens that it has. And it has that authority only so long as it continues to secure the natural rights of its citizens.
We have now seen that although our rights are not granted to us by our government, but are a part of our very nature that they are by nature's law limited in scope. We have seen why it is that governments are created by men and where they get their powers – and what sovereignty men must give up to join into the society that is ordered and protected by those governments. We have also seen how those who choose to remain in the state of nature, or to leave the society to return to the state of nature set themselves against that society and declare themselves to be foreign to it and forsake its protections and the privileges of its citizens.
What then of my friend who says "That would be fine and dandy if i would have joined, but I was born into the world as is. Why can I not choose to opt out of the governments society?"
I think the answer is quite obvious. If he chooses to opt out, he declares himself to be foreign to that society. If he is foreign to that society he must still abide by its rules and laws while within its jurisdiction. If he fails to do so he declares himself to be at war with the society. When he does that, he had best hope that he has the strength and the fortune to evade the society's magistrates – for the society's obligation to protect its members and to secure their safety and happiness demands that it punish the transgression.
More on this (hopefully) later. John Locke deals with the notion of how children are brought into a society by their parents, how it is that their parents are responsible for them and how their rights are less than fully developed while they remain children, for they cannot be sovereigns until they are raised out of a state of nonage into maturity and reason.
---
Comments (1)
|
Trackbacks (0)
---
Published Wed, Mar 13 2013 8:50 PM
Technorati Tags: Constitution
---
Seriously, you don't. You might think that you do, but the constitution grants no man any rights. Neither, for that matter, does the Bill of Rights (with one possible exception) nor any of the other seventeen existing and ratified amendments to the constitution.
Article 1 of the constitution deals with the structure, election, and powers of the legislature. Not a single mention is made therein of any rights whatsoever, although a few privileges are recognized and a few privileges are granted. But not a single right is recognized nor granted in article 1.
Article 2 of the constitution deals with the election, powers, duties and responsibilities of the executive. Not a single mention is made therein of any rights whatsoever. Again, not a single right is recognized nor granted in article 2.
Article 3 of the constitution deals with the structure, powers, and limitations upon the jurisdiction of the supreme court. Not a single mention is made therein of any rights whatsoever. Once again, there is not even one right recognized or granted in article 3.
Article 4 of the constitution places certain limitations upon the sovereignty of the states. Not a single mention is made therein of any rights whatsoever, although the citizens of each state are entitled to the same privileges and immunities of the citizens of the several states. This article also makes the only guarantee to be found in the entire constitution. That guarantee is made not to the people, but to the states and it is a guarantee of a republican form of government.
As a side note, Senator John McCain recently said that the founders prohibited the defense of America's borders. It's obvious that he never bothered to read article 4 of the constitution. Right after the guarantee of a republican form of government comes this clause.
"and shall protect each of them against Invasion;"
That's more than mere permission to defend the borders, it's a mandate to do so. I've always thought that John McCain had a poor understanding of his role as a Senator. I've long known that he has little regard for the federal governments obligations as well as the explicit limitations placed upon it by the constitution. I'm going to give him the benefit of the doubt and say that he's simply ignorant, although I'm sure a few of my readers will say it's not ignorance but arrogance that best characterizes him.
But, back to my main topic…
Article 5 of the constitution defines the process for amending the constitution. Once again, this article makes no mention whatsoever of a single right. Nor does it mention a single privilege, immunity or entitlement, but it does prohibit amendments to the constitution from depriving any state of equal representation in the Senate.
Article 6 of the constitution deals with the validity of the debt accrued by the United States under the articles of confederation. It establishes that the constitution is the highest law of the land. It establishes the supremacy of federal laws enacted in pursuance of the constitution over all other laws. It establishes that treaties made under the authority of the United States, in other words under the authority granted by the constitution, are the supreme law of the land. It requires oaths of all Senators, Representatives, State Legislators, The Executive office, the Judicial officers and all State officers to support the constitution, and it prohibits using religion as a test for holding office. But, it neither recognizes nor grants a single right.
Article 7 of the constitution deals with the ratification procedure and follows up with the correction of a few errata. It is followed by the signatures of many of the delegates to the Constitutional Convention. But nowhere does it mention a single right, either in recognition or to grant one.
You won't even find mention of a single right in the preamble to the constitution, except where the preamble notes that one of the purposes of the constitution is to "secure the Blessings of Liberty". This doesn't provide a grant of the right to Liberty, but rather it recognizes its existence. That's right, the only right even recognized in the main body of the constitution is the right to Liberty and that is treated as a pre-existing right.
So what then do people mean when they talk of their "constitutional rights"? Perhaps they mean something to be found in the Bill of Rights. To tell you the truth, if they think that's where our rights come from, they're wrong.
The Bill of Rights consists of twelve proposed amendments. Of these the first was never ratified by the states, and the second languished for two hundred and three years before it was finally ratified – as the most recently ratified amendment, the twenty-seventh. Most people are accustomed to thinking of the remaining ten amendments proposed by Congress in that original document as the Bill of Rights. Give the document a good read. You will not find the "granting" of a single right anywhere in it other than the rights of the accused in criminal prosecutions (amendment 6). Rather the rights described in the Bill of Rights are discussed as though they already exist and restrictions are placed upon their infringement.
The rights of the accused in criminal prosecutions look to be a special case – they are the only enumerated rights that require the participation of people other than the person enjoying them. It could be argued that these rights were recognized as pre-existing. It's certain that trial by jury at least had a long history before the drafting of the Bill of Rights. Even so, the wording of the sixth amendment implies a grant of rights in a way that none of the other amendments of the Bill of Rights does:
In all criminal prosecutions, the accused shall enjoy the right to a speedy and public trial, by an impartial jury of the State and district wherein the crime shall have been committed, which district shall have been previously ascertained by law, and to be informed of the nature and cause of the accusation; to be confronted with the witnesses against him; to have compulsory process for obtaining witnesses in his favor, and to have the Assistance of Counsel for his defence.
That the constitution, in particular the Bill of Rights merely recognizes all other rights rather than granting them is made plain by the ninth amendment. If the constitution or the Bill of Rights were written for the purpose of granting rights then the ninth amendment would be superfluous. In fact it's very wording would be suspect.
The enumeration in the Constitution, of certain rights, shall not be construed to deny or disparage others retained by the people.
The ninth amendment indicates that the constitution merely enumerates certain rights. It also indicates that the enumeration is incomplete. If that enumeration does not deny other rights retained by the people then there must be other rights that the people already have. The remainder of the amendments (11 through 27) merely place further restrictions upon the governments ability to infringe upon the right to vote, establishing that the right to vote, particularly in federal elections, cannot be infringed base upon race, color, previous condition of servitude, or sex, and establishing that people as young as eighteen cannot be denied the right to vote based upon their age.
All of this begs the question: If the constitution does not grant us our rights, where then do they come from? I think that the answer to that is "self evident".
We hold these truths to be self-evident, that all men are created equal, that they are endowed by their Creator with certain unalienable Rights, that among these are Life, Liberty and the pursuit of Happiness.--That to secure these rights, Governments are instituted among Men, deriving their just powers from the consent of the governed,
More on that in a follow-up to (hopefully) come soon. I want to discuss natural rights, natural law, and the meaning of the "state of nature" and what it means when we leave the state of nature to enter into a society. At least one person I've had a conversation with recently seems to have a major misunderstanding of that topic.
---
Comments (1)
|
Trackbacks (0)
---
Published Sun, Mar 10 2013 7:08 PM
---
Today, Lucas and I went to visit the state capitol. We also took a trip to the Hogel Zoom and a short drive up through Emigration Canyon. Quite naturally, I took my camera. I should have brought my shorter lens though.
It's almost hard to believe that this building is 99 years old.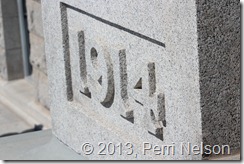 Well maybe not. After all, there's some symbolism there that modern people would likely not even bother with, like the twin lions standing for Integrity and Fortitude. Oh wait, I guess some modern people would, since these were sculpted just four years ago…
But… would we moderns sculpt something like this? This statue of Massassoit was cast in Bronze some 37 years after it's original was made, but still over half a century ago. Political correctness today might not allow such a thing.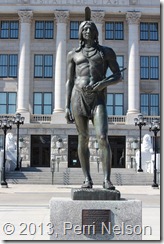 Inside the capitol building is even more impressive than outside. Four alcoves around the central chamber under the cupola caught my eye.
Of course, there's much more to see, and my pictures don't do it justice. That, and you aren't getting the full sized pictures even if you open the links to the larger images. The interior of the capitol is awesome, including the Senate chambers, the House of Representatives chambers, and the old Supreme Court chambers. The Supreme Court now meets in a different building – but… that's a story and pictures for another day.
Lot's of stuff to see and do around here. Pictures from the Zoo in a future post.
---
Comments (1)
|
Trackbacks (0)
---
Published Sat, Mar 2 2013 7:50 PM
---
I took my son to Antelope Island today. This is the first time I've gone in the winter. We didn't see too much wildlife but, as always, there was some.
We saw a grand total of seven bison. We also saw a rather small field mouse (not a rodent of unusual size) near the ranch. There we were fortunate enough to encounter a few critters that I hadn't seen on the island before, including two great horned owls.
Antelope Island is a beautiful place… even in the winter. I know that my son enjoyed it, and so did I.
---
Comments (1)
|
Trackbacks (0)
---
Published Tue, Feb 12 2013 4:59 PM
---
I arrived home from work today to see a large cardboard box by my door. Well, O.K. it wasn't that large but it was heavy at just over 38 pounds. Finally, after over a year of waiting I can begin my next maille project. Opening the box I found… paper. But underneath the paper were 24 plastic bags and an oblong plastic wrapped gizmo. They were coated in machine oil so I took a couple out and set them on my small work tray.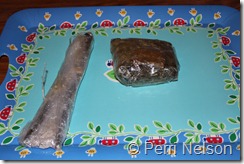 I unwrapped the bag (yes, the bag was still wrapped) and the gizmo. Now I have a rivet set tool a large bag and a small bag.
The small bag contains rivets, the large bag contains overlapped rings of 16 gauge mild steel. And they're all coated in oil (mild steel does rust after all). I went and grabbed my hauberk (made of 16 gauge stainless steel butted rings with a 5/16" inner diameter) for comparison and pulled out a rivet and a couple of rings.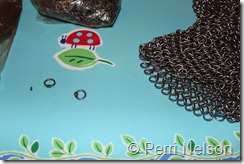 Here's the comparison. You might notice that the new rings have a somewhat larger diameter than the stainless rings I used in the hauberk. They're also not as shiny, and if you click on the image you'll see they're coated with gunk. There's also an area where the ends overlap and have been flattened and a hole punched through. One thing I've noted already, the hole is not uniformly positioned. It's right on the edge of the flattened area in some cases, in others it's right in the center. In this case, the hole in the two pieces doesn't quite line up. That will make setting rivets fun (he said with his tongue stuck so hard into his cheek that it's a wonder anyone understood what he said, including himself).
So now what? Well, obviously we've got to set a few rivets and start making chain. But first how about just a ring and its associated rivet?
And the first closed ring with set rivet.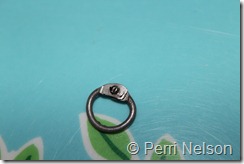 Finally, a single unit of European 4 in 1 riveted maille.
The fun has begun. I have 24,000 rings and rivets to put together to make my next hauberk and coif. I may end up needing more rings. We'll see as I get closer to project completion. The last one took me 100 hours to build. A good part of that was purely mechanical as I got the hang of opening and closing rings fairly quickly. Setting the rivets and joining the rings into maille seems to take a bit more time (these 5 took me about 15 minutes, but I was taking pictures too), but it has been a couple of years.
Maybe I'll be done in time for the Renaissance Festival this spring. We'll just have to see.
---
Comments (1)
|
Trackbacks (0)